bike rack for roof rack
04-11-2011, 02:21 PM
Join Date: Apr 2011
Posts: 2
---
04-11-2011, 02:50 PM
---
The roof racks from Mazda cost around $400+, like this one:
Then you buy a bike rack that fits the roof rack, like this one for about $140: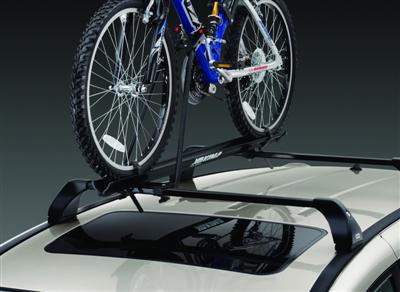 I have a new 2012 Mazda5 GT and I need a rack to bring my son's mountain bike back from college in June. Rather than spending $500-600 on roof racks, I'm looking at this Yakima KingJoe Pro 2 for about $140 total. Am I lame for taking the cheap route?
Here's the KingJoe Pro 3 (for three bikes):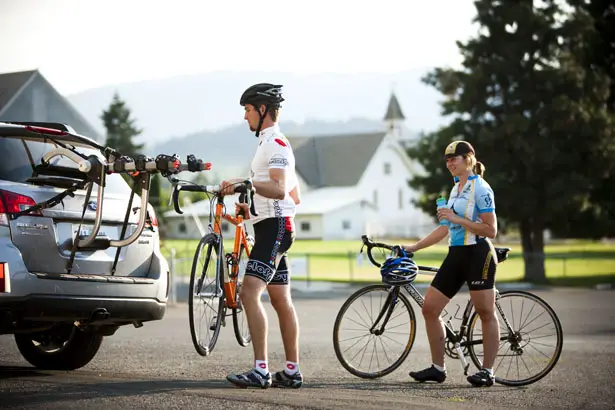 04-19-2011, 05:06 PM
Join Date: Oct 2006
Location:
Posts: 66
---
Roof racks are pretty spendy no matter whose you go with. Mazda, Yakima, Thule were all similarly priced. There are some internet dealers out therre that give some discounts. Free shipping is huge because this stuff is bulky aand heavy.
For Yakima products, I found Rack Attack and Rack-It had some of the best pricing.

I installed the Towers/bars and found that once I hit 25 mph this resonant freq. would startup and just keep getting louder the faster I went. I think people could hear the hum a quarter mile away. Then I spent $70 on a faring and helped get rid of the loud hum, but still hear wind noise and I can feel the resistance driving.
The Yakima Hi-Rollers are spendy, but can take the bikes on and off in a couple of minutes and the bikes ride nice.
The bars, faring, and bike racks come off of the roof easily as one unit and just lean against the garage wall (see pic)...which is good. Towers then stay on the car (see pic.) Because of the noise and wind resistance..I don't want to leave them on the car..even though it does look sweet.

$700+ for everything including a pack of ten locks - but Yakima is a darn good product.
04-21-2011, 11:29 AM
Join Date: Jan 2007
Location: Newark, NY
Posts: 172
---
Thread
Thread Starter
Forum
Replies
Last Post