NASCAR New Car & Season
02-22-2013, 06:46 PM
Join Date: Dec 2011
Location: Canada
Posts: 2,636
NASCAR New Car & Season
---
Sunday Feb 24, 2013 is the start of a new Season of NASCAR starting with Danica Patrick on the Pole for the Sprint Cup race Daytona 500.
Yes Danica is full time on Major League Sprint Cup series on Tony Stewart's team (he is the owner with another guy). Danica got rid of her old hubby and is now seeing Ricky Stenhouse who won the Junior Nationwide series last year and Ricky is also in the Sprint Cup series this year.
It took Danica Patrick 45.817 seconds to circle the track and win the pole position for the Daytona 500. It'll take about four hours to determine who wins the famed race that starts the Sprint Cup season at 1 p.m. ET Sunday. Patrick made history as the first woman to win a pole in NASCAR's elite division.
Patrick weighs far less than her competitors, in a sport that separates winners and losers by fractions of a second. Her website lists her at 100 pounds — 50 pounds lighter than Jeff Gordon, who will start in the second slot Sunday.
NASCAR accounts for variations in drivers' weight by adding what are essentially blocks of lead to Sprint Cup cars, which are required to weigh at least 3,300 pounds. For every 10 pounds under 180 pounds, an additional 10 pounds of weight is added to the car.
But NASCAR's rules only cover weights down to 140 pounds — a limit that surely must have seemed safer in the sport's more country-fried past.
"As a consequence, the combined weight of Patrick and her No. 10 Chevrolet SS represents a 40-pound advantage over almost every other driver/car combination in the field," writes Reid Spencer at NASCAR.com.
There is a new car this year. They are trying to make these cars more familiar with the real car. So far racing @ Daytona hasn't showed much bump drafting
(maybe bumpers don't line up very good and maybe car is not handling good in these situations but we will see on Sunday).
Video below shows real Ford Fusion transforming in to a NASCAR Ford Fusion.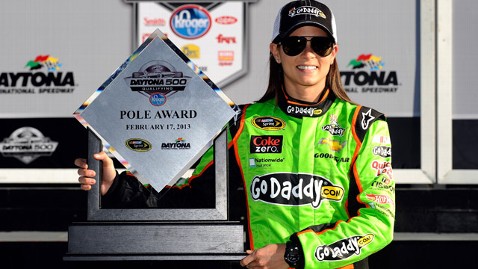 LOOKING FORWARD TO RACIN'
---
Last edited by UseYourNoggin; 02-22-2013 at

08:42 PM

.
02-24-2013, 04:35 PM
Join Date: Dec 2011
Location: Canada
Posts: 2,636
---
Race is over. Jimmie Johnson Won, Dale Earnhardt jr 2nd, mark martin 3rd.
Danica finished 8th.
Danica's performance: 1st woman ever to finish that high in Daytona 500. She did well all day as she was in top 10 most of day and even led a few laps (2nd pic green car in front), except the last 2 crucial laps she sucked. After the last re-start with 6 laps to go she was told by Greg Bifle to push him at start, she did. A few laps later she had another chance to push him and backed off. She was in 3rd place on last lap and everyone was on the outside lane. She did not want to drop down to inside because she feared she would not get help. So Dale earnhardt jr decided to drop down with mark martin behind him and they flew by Danica and Greg bifle. Danica dropped to 8th in last 1/2 lap.
New Gen 6 Car: as suspected there was minimal pushing due to car bumpers not lining up properly. There was still some crashes.
Engines: Toyota had 2 big failures: Matt Kenseth and Kyle Busch who both were in top 5 before this happened.
The inside lane was better on re-starts (unless some pushed on outside).
02-25-2013, 07:35 AM
Join Date: Dec 2011
Location: Canada
Posts: 2,636
---
Not impressed with NASCAR's new re-designed web site. It was down a few times last night and took over 30 secs to load this morning. And after i selected to see more videos, I actually got a pop up that says page is unresponsive (again--same as last night). Never had this problem last weeK or before.
Here's a video hi-lights of yesterdays race.
NASCAR Custom Player CQ
02-25-2013, 10:21 AM
Join Date: Dec 2011
Location: Canada
Posts: 2,636
---
As a result of NASCAR's poor website i found another great video somewhere else.
This video is from Saturday's NATIONWIDE series (I call this the Jr A series).
There was a huge crash @ end with a car split leaving the engine up in the fence by the grandstand and parts flew in grandstand and fans hurt..
The crash was triggered when leader Regan Smith was turned via contact from Brad Keselowski, who was pushing him. Much like many crashes that have happened in the front of the field at Daytona, the wreck was unavoidable for many behind and Larson's car was catapulted into the catchfence after he was tagged from behind. The impact with the catchfence sheared the entire front off of Larson's car and also tore a hole in the fence. His engine and a tire ended up lodged in the catchfence with the other tire nine rows up in the grandstands. When Larson's car came to rest in the infield, the entire section of the car in front of the cockpit was missing.
Fans injured at conclusion of Nationwide race at Daytona | From the Marbles - Yahoo! Sports Canada
---
Last edited by UseYourNoggin; 02-25-2013 at

10:24 AM

.
02-28-2013, 04:18 PM
Join Date: Dec 2011
Location: Canada
Posts: 2,636
---
NATIONWIDE RACE:
30 or so spectators were injured, two critically, in the ensuing accident, which has lawyers and the injured pondering litigation.
At the bottom of every NASCAR race ticket is a disclaimer essentially excusing NASCAR from any and all injuries experienced during an event. The lanaguage basically states that racing is an inherently dangerous event, and that by buying a ticket, the spectator assumes liability for their injuries. Seems pretty cut and dry if you ask us, but as always there is a catch.
If it can be proved that NASCAR was somehow negligent, and knew spectators could be injured but did nothing anyways, then they could still be open to lawsuits. For example, if lawyers can show that NASCAR failed to put up strong-enough fencing, and knew it might be a problem, those lawyers can claim NASCAR is negligibly responsible for injuries to the plaintiffs.
NEXT SPRINT CUP RACE:
This Sunday Afternoon @ Phoenix on FOX regular everyday TV!
03-03-2013, 11:31 AM
Join Date: Dec 2011
Location: Canada
Posts: 2,636
---
Today's race in Phoenix is quite different than last week. On Fox coverage starts @ 2:30, race probably 3:17.
Danica did not qualify well; 40th, a full second behind the pole time and 6 mph slower for an average lap. We will see what she is really made of! Starting that far back on a fairly short track is asking to get lapped early!
I tried to find size of track, but stupid NASCAR's new design website doesn't show it. I tried to click on video tour but got new response. What a piece of crap website.
---
Last edited by UseYourNoggin; 03-03-2013 at

11:34 AM

.
03-03-2013, 05:47 PM
Join Date: Dec 2011
Location: Canada
Posts: 2,636
---
Couldn't have had a better ending to race in Phoenix.
Early: Kyle Busch spun out and finally got his lap back late and slightly hit wall again.
Ryan Newman blew a right front tire twice before 1/2 way thru race.
Ryan is on same team as Danica Patrick who also blew a right front tire 2/3 way thru race and as a result crashed in to wall then another car hit her on driver side as she came off wall. She is OK. To see this video:
ClickMe
. She did OK due to many cautions early in race after 20-30 laps keeping her on lead lap. She would have done better but she must have close to same set-up as Randy Newman.
Final Laps: With 3 laps to go someone blew a right front tire bringing out a caution. People were minding there mileage as it was a long 70 lap green flag run. Finally they did a final "Green White Checkered" 2 laps. Carl Edwars was leader in inside lane with Jimmie Johnson on outside. Brad Keselowski was in 3rd and pushed Carl Edwards on re-start. He tried to get in front of Jimmie Johnson but didn't clear him. Jimmie and Brad were still beside each other when Denny Hamlin who was behind them dove to inside of track below apron (lots of room here at Phoenix) and came out in front of Brad Keselowski and slightly in front of Jimmie moving him to 2nd behind Carl. It was a drag race after last turn and Jimmie Johnson came back to finish a few inches in front of Denny Hamlin. Brad Keselowski came in 4th and after he said he ran out of fuel as he crossed finish line!
Good thing for Carl Edwards as the sponsor on his race car is "Subway" and "Subway" was the main sponsor for the race as this race was actually called the Subway 500.
Excellent 2nd race!
9 Minute Race Hilight Video:
http://bcove.me/9lo4r8yy
you can make it bigger.
Watch Denny Hamlin on last lap in this 1 minute Video:
http://bcove.me/m9ty1ood
---
Last edited by UseYourNoggin; 03-04-2013 at

12:28 PM

. Reason: Pics, Video, Denny Video last lap
Thread
Thread Starter
Forum
Replies
Last Post