So my dad flipped his car last night.....
02-22-2011, 12:58 AM
So my dad flipped his car last night.....
---
So last night dad was driving home (way too fast like always) when he hit a patch of ice, spun around, hit the snow bank and flipped his car over 1 and half times...
Luckily he wasn't seriously injured, just a bump on the head, a cut knee and a sore neck. But I thought I'd post some pics that I took of it today....
So this was last night just after it happened... Had ALOT of people stop, but the Sheriff kept the traffic moving. Thats my sis and my dad in the pic and his car upside down. It's a 1997 Mercury Mountaineer; same as a Ford Explorer.
This is where the car landed after rolling. It's pretty smashed up....
When the car landed the door was miraculously propped open against those trees. Dad said he woulda had a difficult time getting out if it wasn't open like that....
Dad said he felt the car start to slip as he rounded the turn, then he held on as it spun around backwards. The next thing he knew he was dangling upside down in his seat by his seat belt... The car was still running so he turned it off.
I still can't quite figure out how the door ended up propped open like that; the doors were locked he said.... Haha, my truck in the background.
Door looked like it was in OK shape.
Inside the car. The rear widow busted out so thats how the snow got in there.
The back of the roof got pushed in. Haha, the lights still work.
Car ended up taking out about a dozen little pines...
Front end was pretty smashed up...
Drive train looks alright, it ran when it flipped. I wonder if we flipped it back over if it would drive?....
It looked really bad from the road.....
Has new tires and just replaced the ball joints... Bummer.....
We still are having issues with the towing company, so its still sitting there like that...
Veiw from road. Rolled down into the ditch.
Path the car rolled down.
Broken mirror.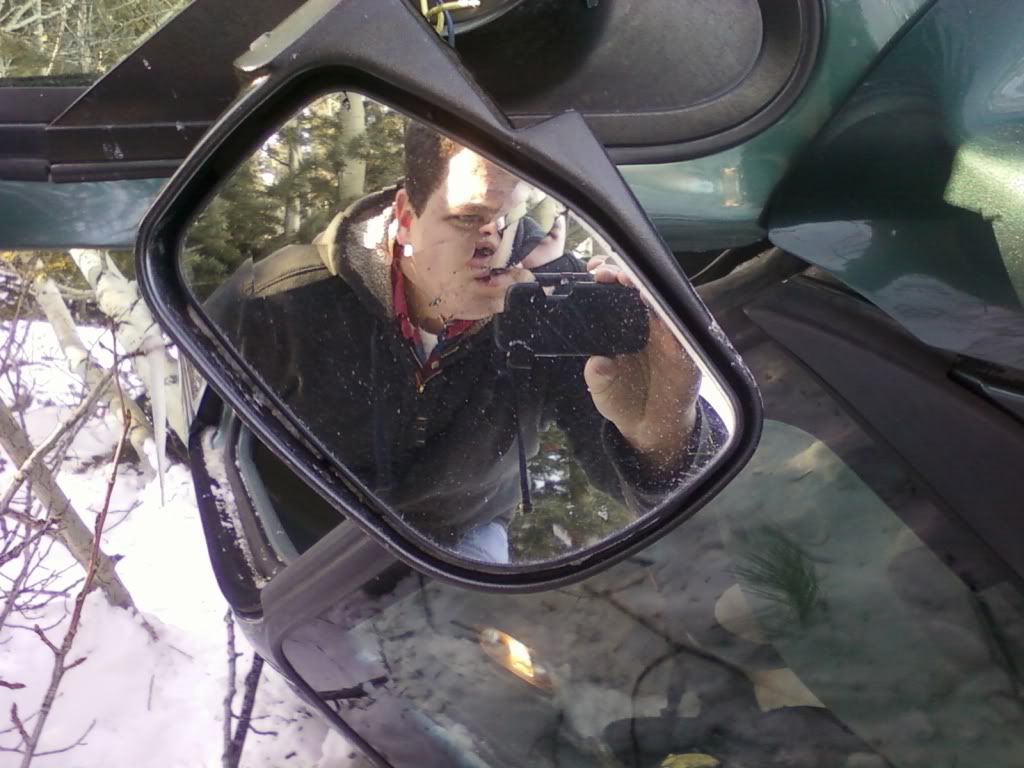 Car had 144,000 miles on it. I guess we got some good life out of it...
Where it landed. And where it still sits....
So the towing company at first said they wouldn't tow it because its upside down. So we said that we'd flip it back over for them, but then they said they couldn't tow it at all. So we called another company and they said they'd get it first thing in the morning. Insurance company wasn't any help either. We didn't have collision on it, so they basically said, "We'll pay for the hospital visit, but your on your own with the car..." Oh well, at least he wasn't hurt too bad. No concussion or anything, gave him a tetnus shot just it case.
Mom wants to keep the new tires and the new battery. Do you think we could unbolt those at the scrap yard? I have no idea...
02-22-2011, 05:06 PM
---
bum deal, glad nobody was hurt
02-22-2011, 09:07 PM
---
Ya, I'm really glad he was alright also,
. But since we weren't happy with the scrapyard's offer ($300), we listed it on craigslist just to see what would happen. Ha, the phone started ringing off the hook! Most people when they learned that it was still upside down in the ditch said, "Oh, well nvm..." But we finally got a buyer for $500. He's going to tow it himself and we're keeping the tires, alloys, and the new battery. Not a bad deal I think,
. I'll post pics of the tow and better pics of the damage tomorrow,
.
,Brian
P.S.- Sry about all the pics to those with low bandwidth....
02-23-2011, 03:38 AM
---

Sorry to hear, glad no one seriously injured. Maybe dad will learn to slow down a bit when there is bad weather now???

I worked for Jeep in the '80's. I didn't know that much about 4/all wheel drives when I first started but found it amazing how many 4WD owners thought they were invincible in there cars because of it.
It's true they offer better traction in a straight line on the slippery stuff, but they also tend to understeer pretty badly and certainly brakes are brakes, so they can't slow down or stop any better than a 2WD does either.
We had many new owners that would go off the road and wreck during their first experiences in the slippery stuff.

2WD, 4WD, or AWD... you still need to be careful no matter what.


02-27-2011, 12:41 AM
---
Here's some more pics of the tow and the damage. I'm surprised it wasn't damaged more! Sry about all the pics, I'm just like that, lol.
Still laying there after 3 days....
We hooked up a chain to the pass. side front and rear axles and used a winch to pull it upright.
After we pulled it right-side up.
Driver window was completely smashed in and filled with snow and I think half a tree...
Rear roof smashed in pretty bad... Hatch wont open anymore... lol
Driver's side door didn't close anymore...
Side winch on Tow truck, pretty heavy duty.
We hooked up a chain to the front and pulled it up to the road. It leaked most of its oil out and the exhaust was plugged, prolly not good to drive it out... lol
Got it up onto the truck.
Unloaded it at Meineke in Broomfield.
We cleaned out all our junk and got it ready for the salvage yard.
Roof caved in a bit.
Guy finally came, paid us $500, and hauled it off. Ha, the guy didn't realize you can't tow an AWD on two wheels and he didn't have another trailer, so he took out the drive shaft. I couldn't help but laugh at the guy a bit... He's just starting up a salvage business apparently. Oh well, his money's good, lol.
03-07-2011, 02:00 AM
---
So idk if anybody was curious, but dad bought a new-ish car a couple days ago. He got a 2002 Ford Explorer. Pretty much the same thing he had before, but its a V6 this time (he's already complaining about it, big down grade from the 302...
). But I think he got a pretty good deal on it; 105,000 miles, leather heated seats, 4x4, 6 cd changer, etc. etc. (lol) for $6900. Not too bad I'd say,
. But here's a few pics of it.
We were laughing at how he picked out exactly the same car,
.
That's my dad.
Pretty nice inside,
.
Sry, crappy pics... It'll need new tires soon and a new battery, but he sure likes it,
. Hopefully this one won't end up in a ditch!!!!!!
03-14-2011, 12:06 AM
---
OH MY F***ING GOSH!!!! I simply can't believe it!!!!! He did it again; DAD FLIPPED HIS NEW CAR THIS MORNING!!!!!!! I couldn't believe it when he called.... He fortunately wasn't driving super fast this time, but still!! Luckily again he wasn't injured (besides his pride); I'm guessing its because he was heading to church..... That doesn't make up for the insurance hikes tho! Counting mom's wreck in Boulder last summer, me being 19, and both of dad's roll over accidents, we're going to be paying a ridiculous amount now....
So he was driving to church when he rounded a corner a little too fast in the snow (got 4" last night), started sliding, and went off on the right side of the road. Again, he had to turn off the car and unbuckle himself while hanging there, but this time the door wasn't conveniently propped open like last time, so he was stuck in there for a few mins.... Luckily a passerby saw him on the side of the road and was able to open the back hatch and let him out; those doors are heavy!!! Here's the pics, again there's lots of them....
Again, he went off on Highway 7, within 10 miles of home....
I suppose the only way to explain why he tipped over that way is that his wheels on the passenger side went up the embankment there.
Luckily we (me, mom, dad, and the two tow truck guys) we're able to push the vehicle upright again without a winch.
On his way off the road, he hit a big rock and snapped the tie rod. It's made of aluminum of course...
Luckily the car wasn't damaged hardly at all, it was just a slow tip over....
Some scuff marks on the side, but we don't think its totaled....
No broken glass either.
Once it was upright, it was pretty easy to winch up onto the flat bed.
Dad grabbing some stuff out of the car with my lil bro.
The drivers side door doesn't open....
Getting it up on the tow truck.
This is where he went off.
Haha, Nathan was imagining what it was like to be driving the car when it happened.... lol
We think this is the rock that broke the tie rod.
Well, besides the fact that he has to dish out $500 for the deductible on it, the super high insurance rates, and facing the humiliation of flipping two cars in less than a month... He's doing great!!!
I guess this one did end up in a ditch...
03-14-2011, 06:14 PM
---

First of all, what broke is not the tie rod end. The tie rod end is what you have your hand on in pic #7. What actually broke, and is made of cast aluminum, is what it connects to. The spindle or spindle plate in this case.

Second, cars, even SUV's don't just roll over unless you are doing something stupid or unsafe for conditions. Your Dad, IMO, needs to learn a thing or two about the high center of gravity associated with SUV's , trucks and 4WD vehicles in general. It seems to me that he's a terrible, and terribly irresponsible driver. Of course I'm basing that solely on what you have posted here.