Joe Maddox 1991 Rx7 Turbo Complete Right Hand Drive Conversion How To Build
04-08-2019, 02:23 PM
Joe Maddox 1991 Rx7 Turbo Complete Right Hand Drive Conversion How To Build
---
Back in the early 2000's, when it was not logal to import the fc3s, I really wanted a RHD rx7. This is the build I did years ago and found a folder of pictures of and thought I would share! This could work for someone who might have a clip and would like to do the same thing?
So... Where to start. I guess I will start with where I was and why I decided to do it this way. I was driving a 1983 Mazda rx7 Widebody FB at the time. I had been into rotary cars and working on them since 1999. I fell in love with one years before that and had to have one!
04-08-2019, 02:25 PM
---
I was content... Then one day when I was over at a friends house prepping to restore his FB so we could both have one
He later brought over this little toy of the Initial D car. I fell in love with it!
04-08-2019, 02:42 PM
---
I was not sure how I could ever own that car and so I kinda just gave up on thinking about it that day, but the gift was awesome and got me plotting on how I might own one someday. literally the next day I was heading out of town to my wife's parents ranch in the middle of nowhere. Little service if any. Hell. But they are good peeps and she grew up on the 3500 acres and the city is a cramped to her. So we bailed. Sitting bored as hell all day up there ( I am not a rancher ) I was surfing the rx7club and found JD Daniels (ehime) selling a complete RHD front clip! I wrote him right then. I had nothing, just put it all into the build for chris weigel's widebody rx7. I was doing that build for free and took a bit of the cost myself. So I asked if he wanted a payment or two as I was not willing to touch my credit for it. Not that big of a deal. They used to be a dime a dozen back then. Not so much these days.
He was not interested in payments, so I went home and opened the savings up and took out the money for it.
The clip was missing a few parts, but had the metal and the dash and that was all I really needed. He ended up also having the rack and crossmember as well as the doors. They were a bit beat up, but looked usable.
I ended up then needing a dummy car! I wanted an S4 as they all have manual belts in JDM cars and was trying to stay close to stock looking with the interior. So I found a nice 1987 SE to start with. It was local and only 300 bucks or so!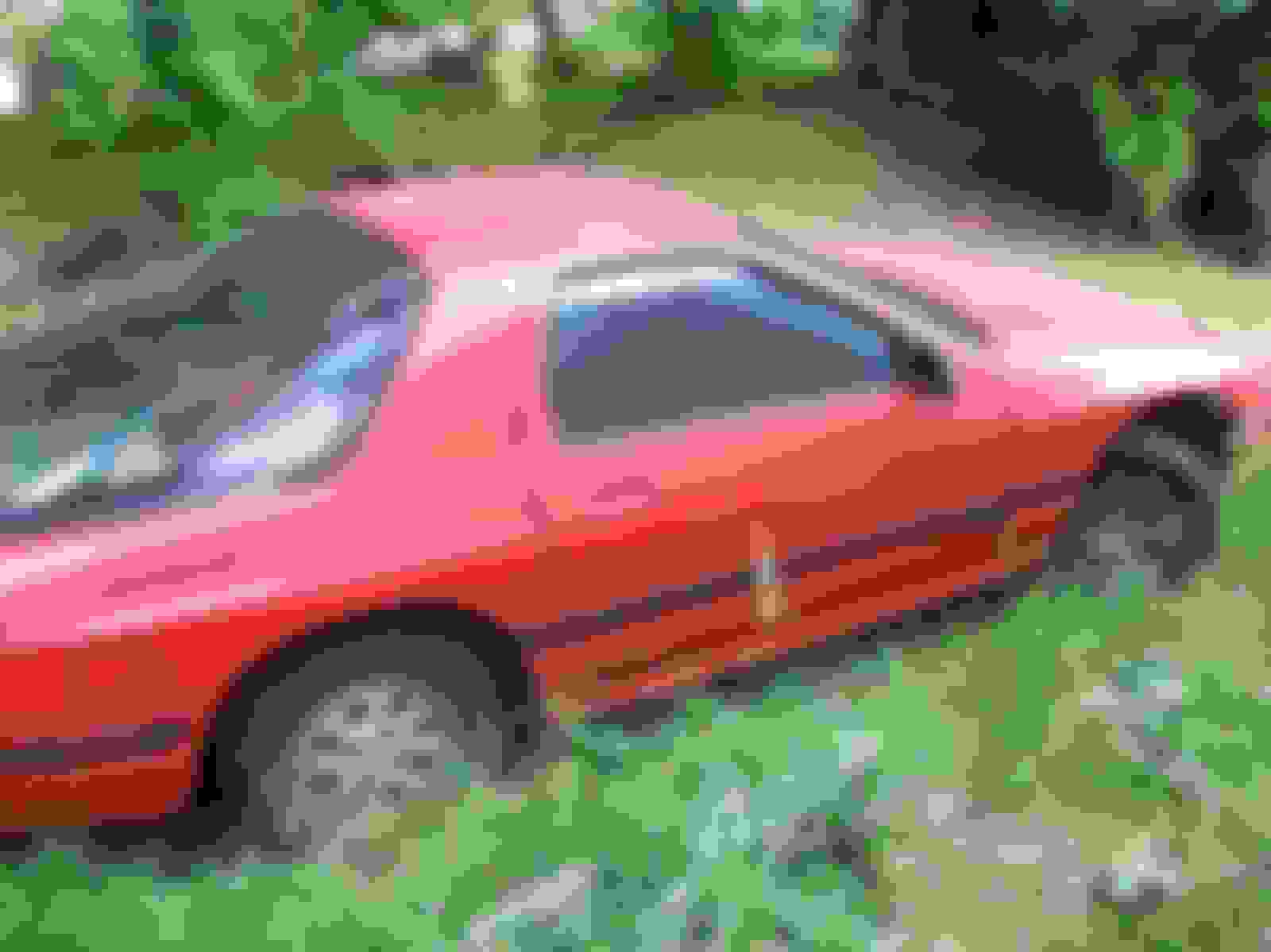 04-08-2019, 02:43 PM
---
There were several ways to do this. I have not really seen one done that was not a good looking and functional set up in the end. However I wanted it to look stock. Like it never happened and came from the factory that way. So my friend Isaac and I started on the body. I took everything off and he started drilling out weld points.
04-08-2019, 02:44 PM
---
All welded up and painted the car was now ready to get to the body and paint!
I gave the cars engine bay a coat of paint before I started on the body.
I ended up getting a rare s4 body kit. I wanted to keep it s4 as I had some Bi color lights I wanted to run on it.
I ended up getting a turbo parts car and using all the body panels from it and passing the shell onto a friend after taking the diff and the trans (as seen in the last pic already installed).
04-08-2019, 02:45 PM
---
I spent many hours after this point. Making all the edges right, smoothing the dings and making the prep perfect. When it was ready to shoot I pulled everything together and got ready to lay primer and color down! I was by myself from the firewall on, so no pics of me doing it unlike the other builds. Late nights only car guys can understand lol.
04-08-2019, 02:47 PM
---
I started putting the interior back into it. The wiring was all wrong. after many days of trying to figure out what was wrong with all the blinkers and why turning on the hazzards killed the headlights, ect... After dozens of friends like Marc from Pineapple Racing came down and could not figure it out and left with it not being functional. I gave up. I rewired a USDM harness and ran all us relays and switches. It was not easy, but it worked perfect and I had everything for a 91 GXL model now! ( Obviously I parted one, I bought the NW moderators car, Fumi).
I had all the options of what lights to run on it. However I decided that for now I was just going to run some clean s5 USDM lights!
decisions decisions
04-08-2019, 02:48 PM
---
There was a lot of wiring to do, I ended up putting in a touch screen system I loved. Had everything as an option. Lateral G's, acceleration in g's, the a neat digital speedo. However I wanted the stock cluster still and everything working, So I wired in everything separate. It ended up all working amazing! Loved the EDFC (at first).