Wicked Camaro
02-07-2013, 11:07 PM
Join Date: Dec 2011
Location: Canada
Posts: 2,636
Wicked Camaro
---
This is 1 Black Wicked Camaro with an ankle-cracking front splitter matched by a ungodly huge rear wing out back, a COPO hood and a supercharged (yes, supercharged) V8 engine making more than 700 horsepower. 24-inch wheels all the way around – 10-inches wide in front and 15-inches wide in back.
COPO CAMARO: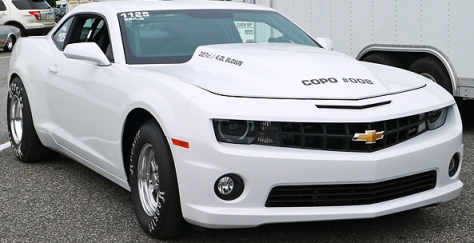 The Holley LS "Hi-Ram" intake manifold is a significant performance element for the COPO Camaro. The COPO Camaro is the quickest and fastest Camaro ever to roll off a Chevrolet assembly line.
The COPO Camaros are meant to live out their lives only on the drag strip, going nose-to-nose with the fastest cars in Stock Eliminator and Super Stock Classes. We will produce another run of 69 COPO Camaros for 2013. More than 3,000 hand-raisers expressed interest in buying a COPO after we introduced the car last year. We are excited to support these grassroots motorsports enthusiasts in their Stock Eliminator and Super Stock drag racing efforts. All COPO Camaro production models were built by hand starting with hardware from the Oshawa assembly plant that manufactures regular-production Camaros, including the same body in white body shells (part number 19243374) racers can purchase from Chevrolet Performance, along with other COPO-specific parts, to build their own dedicated race car. The COPO Camaro is designed to NHRA racing specifications including a solid axle and a full chrome moly roll cage. Inside, most of the standard sound deadening and power accessories have been deleted in order to optimize weight for NHRA racing. Also included is a pair of racing bucket seats (no rear seat), a safety harness for the driver, a competition floor shifter and Chevrolet Performance gauges.
The
3
engines offered in the COPO Camaro program were developed to align with the top classes in NHRA's various Stock Eliminator and Super Stock ranks. These
3
are:
1)
An LS7-based naturally aspirated 427 (7.0L) V-8
2)
A supercharged, LSX-based 327 (5.3L) V-8 featuring a 2.9L supercharger
3)
A supercharged, LSX-based 327 (5.3L) V-8 featuring a 4.0L supercharger
---
Last edited by UseYourNoggin; 02-08-2013 at

08:57 PM

.
02-15-2013, 08:25 AM
Join Date: Dec 2011
Location: Canada
Posts: 2,636
---
Here's one for you 1969 Camaro Fans. This one is Twin Turbocharged, Supercharged and Nitrous! Triple threat. The intake is actually taller than the roof, i would hate to get outta contol and do a rollover!
Best pics start @ 4:40 in video.
Thread
Thread Starter
Forum
Replies
Last Post
Intake, Headers and Exhaust
Mazda MX-3 and Mazda MX-6