2004 Tribute dead bettery issues
02-09-2011, 03:29 PM
Join Date: Jul 2009
Posts: 9
2004 Tribute dead bettery issues
---
We have a 2004 Tribute ES, V6, Auto, etc, with 34,000 miles on it.

As you can see from the mileage, it doesn't get used much, and we consistently have occassions during the winter where we encounter a dead battery if it sits more than 2-3 days(which it does alot).

It's been to the dealer while under warranty and the charging system is good; Battery was replaced under warranty 2 times, and last January we put a larger capacity Deka battery in, but to no avail.

Can the security be that much of a drain?

Just wondering if anyone else has this problem?

Thank you,.....marc
02-16-2011, 11:55 AM
Join Date: Jan 2007
Location: Newark, NY
Posts: 172
---
2-3 days means something is stuck on... the security system should last at least 2-3 weeks. Any chance the remote is being pressed accidentally to repeatedly lock the car or something?
Are there any aftermarket accessories on it? Anything from a tomtom that's always plugged into the cigarette lighter, to an amplifier addition to your stereo could cause a quick drain.
If you can't find anything else, you can get a battery disconnect switch (walmart, radio shack) to simply cut the power to everything, which would save the battery. Or hook up a trickle charger to the car, that would be the easiest thing to do.
If you find an electrical engineer, they can put a meter on the battery and track down what may be draining the system.
02-18-2011, 07:35 AM
Join Date: Jan 2007
Location: Newark, NY
Posts: 172
---
hm, since it's cold weather only, there could be a bad solder joint somewere so there is a device staying on when it's cold instead of getting a 'turn off' signal. It's a stretch but it's possible.

About the only way to trace that is to:
1. Look at the current drain from the battery, should be around 5mA or less, yours is probably ~300-400mA if it's killing the battery in 3 days. It may take some time to drop, i've seen vehicle security systems draw 1 amp or more for 15 mins before going into low power mode.

2. Look at the current through each fuse / circuit when the car is off & locked. You can put the car on blocks, open the door and trigger the door latch so the car thinks it's all closed up to do the testing. This takes time, but would pinpoint what circuit is drawing power when it shouldn't be.

3. Once the circuit is identified, you can either pull that fuse (or put a switch on it) or remove components that are on that circuit until the power draw goes away to find what is causing the drain.

Good luck.
02-18-2011, 06:10 PM
Join Date: Jul 2009
Posts: 9
---
The only things that are not turned off are the headlights, which automatically turn off, and the radio which shuts off with the ignition.

We drive with the headlights on all the time; Is it possible the headlight automatic shut off is causing a drain?
02-20-2011, 07:12 AM
Join Date: Jan 2007
Location: Newark, NY
Posts: 172
---
It could be, though if it automatically turns the lights off, or you do it manually - that module is powered the same way. If it's damaged it may not be turning the headlights all the way off, though still 'off' enough you couldn't see them on.
Unless you can see what is actually staying on when it shouldn't be, I think the only way to figure it out is to use a meter and see what circuit is drawing power.
04-14-2014, 07:55 AM
Join Date: Dec 2011
Location: Canada
Posts: 2,636
---
I have a suggestion.
Buy the biggest battery that would fit and make sure it is an agm battery, absorbed glass mat.
AGM technology provides extra energy to run all the power hungry electronics in today's vehicles Ideal for starting in the coldest temperatures, vehicles with large electrical loads (DVD players, GPS devices, heated seats, etc) and vehicles used for frequent short trips or stop-n-go traffic Has 2x longer life compared to conventional flooded batteries Exceptional ability to bounce back from accidental discharges. In other words, it charges faster which is great for the modern technology and many short trips. MORE:
MotoMaster Eliminator Ultra Flat Plate AGM Automotive Battery » ENE - Automotive Batteries - Product Videos - Batteries, Boosters, & Chargers - Batteries - Auto » English | Canadian Tire
I bought one for my Mazda 6 and love it! Bought 1 slightly bigger.
Also, wrap your battery in insulation. Heat kills batteries but you don't realize until the winter when you actually need your battery to work. The insulation also helps keep the cold off of it resulting in better starts.
Part #
13200
8"x40".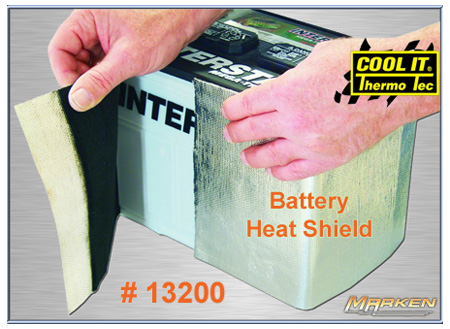 Thread
Thread Starter
Forum
Replies
Last Post