My norwegian 1984 Mazda 626 2.0 GLX Coupè
02-16-2014, 02:36 PM
Join Date: Feb 2014
Posts: 3
My norwegian 1984 Mazda 626 2.0 GLX Coupè
---
After 4 years of storing in a garage, my 84 Mazda is classified as a "veteran-car" here in Norway. This means that the car has to be at least 30 years old from first registration and the benefit of this is that the roadtax, insurrance and registration-fee is much cheaper. That`s why I have stored the car for 4 years, and as we for a change do not have snow where I live in winter this time of year, i got the car out for the first time in 4 years today.
It hasn`t been started or runned for 4 years, and after fitting a new battery, fresh fuel in the tank and changing the fuel filter, it fired up and goes like a dream
I am planning to do some work on it to pass the MOT-test and get the numberplates back on and enjoy driving it in nice summerdays
Here`s som pictures of the car straight from the garage and some after a quick wash. The car is in very good condition and the mileage is pretty low for an old car; 140.000 kilometres.
04-14-2014, 09:27 PM
Join Date: Dec 2011
Location: Canada
Posts: 2,636
---

I like a bit of customization to be unique. Needs updated rims, lower suspension. Too bad engine is small.
I guess not too many cars like that around period---so this may be your uniqueness, in a different pain staking long storage kind of way.
04-15-2014, 07:34 AM
Join Date: Dec 2011
Location: Canada
Posts: 2,636
---
I also found some nice specs for the 1984 Mazda 626:
Detailed specs review of 1984 Mazda 626 LX Coupe (model for North America )
0-60 in a whopping 12.1 secs from the 122.4 cubic inch engine with 84 Horsepower and 110 foot pounds of torque
Apparently, below is a 1984 Mazda 626 which is a sedan (with much mods), I believe the one on this thread is a coupe (2 doors):
---
Last edited by UseYourNoggin; 04-15-2014 at

07:39 AM

.
04-15-2014, 11:22 AM
Join Date: Feb 2014
Posts: 3
---
Thanks for feadbacks people :-) A lot of things have happened since my first post, the car is now ready and the licenceplates will be on in a few days.
I got to do a lot of work on this car but now it`s ready.
As you can see on the pics, I`ve got other alloys. Not my first choice but they will do for now.
Regarding the engine; my car is european specs so it is 2.0l 102hp. I think it runs OK, this is not a car I`d like to go to a racing curcuit with anyways
Well, anyway.. Here`s some pics from the finish result.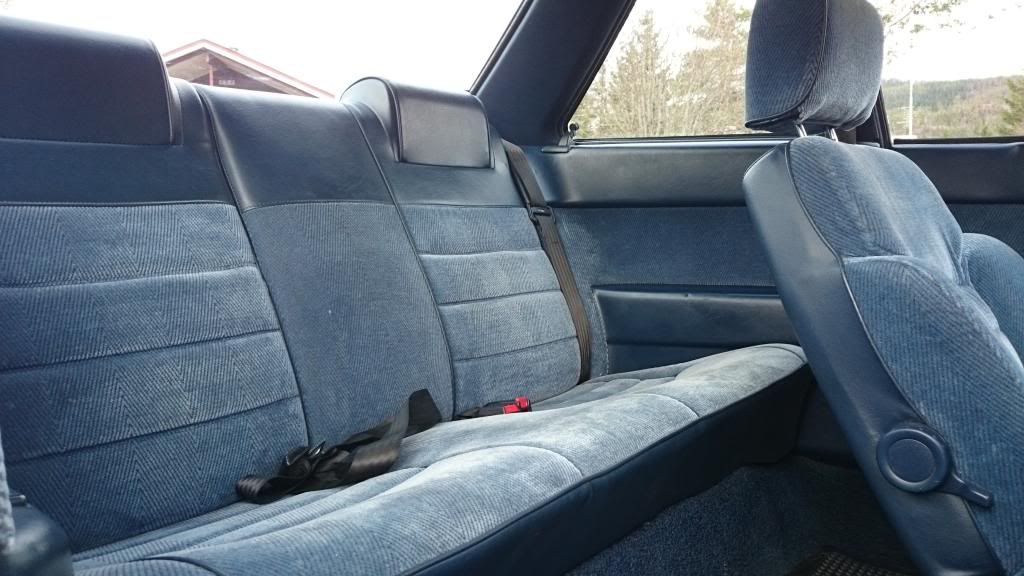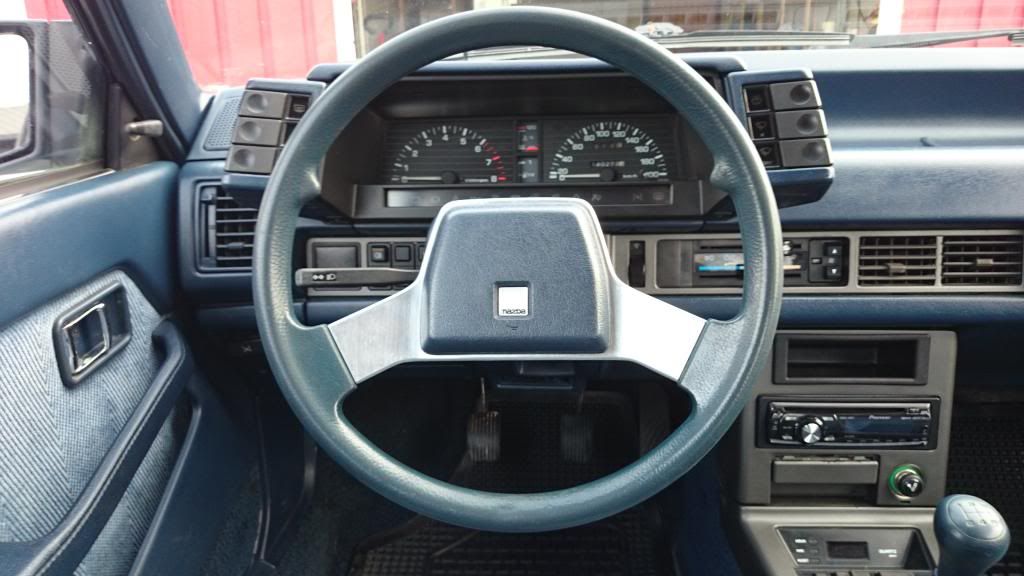 04-16-2014, 04:27 AM
Join Date: Feb 2014
Posts: 3
---
Thank you, the car is in very good condition. The mechanic who did the MOT-check was stunned and said that he was almost certain that this was the best 626 GC Coupe left in Norway. So its really fun to have a unique car I think :-)

The sticker had to go! One of the first thing I did ;-) I like my vintage car cleen and original, for me that's the whole point with a vintage, that it appear like it was in that era, like a time-capsule, to catch the essence of that particular decade :-) But I don't drive my classics on a daily basis, they just for cruising and recreation on nice summer days, sundays and going on carmeets :-) So I understand people who modify their classic and drive them daily.

I also got a 72' BMW 2002 and a 71' BMW 2800 (Bavaria). The last one is not yet on the road and is a bit of a project. The first one is in good shape ;-)

Regarding the white car in the garage you were talking about; it's not mine. The garage belongs to my grandfather and the car belongs to a friend of his and have been in there for a loooong time now.
In norway I think we call the car a Ford Taunus, think its a 17m or 20m.
04-16-2014, 11:06 PM
---
Psyfoon:
I had my walls plastered with pictures of BMWs. The 2002 was my favorite. I also recall getting a ride in a BMW 2500 (Bavaria with the smaller engine) i was so fscinated by the tachometer. That was the first time I saw such a thing. I saw it move up and down all the time and couldn't figure out what it indicated....
Next time you get a chance please look at that white Ford. I don't recall any Taunus with that hood scoop thing. I am still thinking it is a British Ford Cortina.
Also, there is a website that you might enjoy frequenting:
Curbside Classic
Thread
Thread Starter
Forum
Replies
Last Post
Mazda 323,Mazda 626 & Mazda 929
Mazda 323,Mazda 626 & Mazda 929
Mazda 323,Mazda 626 & Mazda 929
Mazda 323,Mazda 626 & Mazda 929
Mazda 323,Mazda 626 & Mazda 929